Audi Windshield Replacement: Quality Care at XL Car Care
When it comes to your Audi, maintaining every aspect of its elegance and performance is essential. One often overlooked component is the windshield, which plays a crucial role in both aesthetics and safety. This webpage will guide you through the world of Audi windshield replacement, shedding light on its significance and the exceptional services provided by XL Car Care.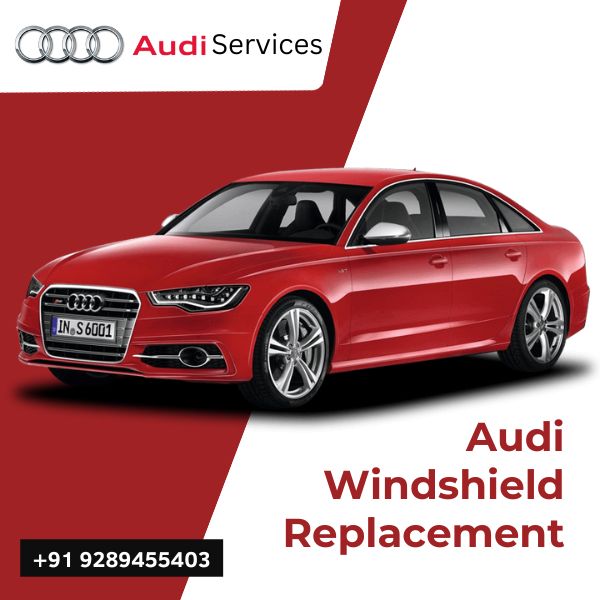 Why Choose XL Car Care for Audi Windshield Replacement in Delhi?
At XL Car Care, we understand the unique requirements of Audi owners. Here's why you should entrust your Audi's windshield replacement to us:
Highlighting XL Car Care's Expertise and Reputation
Audi windshield replacement: With years of experience in the industry, XL Car Care has built a stellar reputation for providing top-notch Audi windshield replacement services. Our technicians are trained and certified, ensuring that your Audi receives the care it deserves.
Genuine Audi Glass and Quality Materials
We prioritize quality above all else. When you choose XL Car Care your trusted Audi repair and Audi service center in Delhi, you can rest assured that your Audi will be fitted with genuine Audi glass and high-quality materials that meet or exceed the manufacturer's standards.
Warranty and Customer Satisfaction
Your satisfaction is our utmost priority. XL Car Care backs its services with a comprehensive warranty, giving you peace of mind knowing that your investment is protected.
Factors Affecting Audi Windshield Replacement
Understanding the factors that influence Audi windshield replacement is crucial:
Audi Model and Windshield Types
Different Audi models may require specific types of windshields. Our team at XL Car Care is well-versed in the diverse range of Audi vehicles, ensuring that we source and install the correct windshield for your specific model.
Additional Features like Sensors and Advanced Systems
Many Audi vehicles come equipped with advanced features like rain sensors and lane departure warning systems integrated into the windshield. XL Car Care not only replaces your windshield but also recalibrates or replaces these sensors to ensure they function correctly.
Cost Considerations
The cost of Audi windshield replacement can vary, depending on factors like the model, glass type, and additional features. We provide transparent pricing, working with you to find a solution that meets your budget while maintaining quality and safety.
The Audi Windshield Replacement Process
At XL Car Care, we pride ourselves on delivering a meticulous Audi windshield replacement process to ensure your luxury vehicle maintains its elegance and safety.
Removal of Damaged Glass
Our journey begins with the careful removal of the damaged windshield. Our technicians are trained to handle Audi vehicles with precision, taking every precaution to avoid any further damage during this crucial step.
Installation of New, High-Quality Windshield
Your Audi deserves nothing but the best. We install genuine Audi glass and top-quality materials, ensuring your vehicle retains its original standards of excellence. Our commitment to quality extends to every Audi model, whether it's an Audi A3, A4, A5, or any other variant.
Calibration of Sensors and Components
Many Audi vehicles feature advanced sensors and components integrated into the windshield. Our experts at XL Car Care meticulously recalibrate or replace these sensors to guarantee that they function flawlessly, preserving the safety features your Audi is known for.
Ensuring a Seamless Fit
The final touch in our Audi windshield replacement process is ensuring a seamless fit. Your Audi will leave our care with a windshield that not only looks immaculate but also functions perfectly, with no compromises.
Using Insurance for Audi Windshield Replacement In Delhi
We understand that insurance can be a valuable asset when it comes to Audi windshield replacement. That's why we offer our assistance to make the process as smooth as possible.
Understanding Insurance Coverage
Our experts are here to help you navigate your insurance coverage, ensuring you are aware of the benefits and limitations of your policy.
Step-by-Step Guide on Utilizing Insurance
If you choose to use your insurance, we provide a step-by-step guide to streamline the process so you can have your Audi's windshield replaced hassle-free.
XL Car Care's Assistance in Insurance Claims
XL Car Care's experienced team will assist you in filing insurance claims, making sure you get the coverage you deserve.
Frequently Asked Questions About Audi Windshield Replacement
We believe in providing clarity to our valued customers, and that's why we address some common questions about Audi windshield replacement:
A. Common Inquiries about Audi Windshield Replacement
We answer questions that Audi owners frequently ask, ensuring that you have all the information you need to make informed decisions.
B. Clear and Informative Answers
Our responses are clear, concise, and informative, offering you the knowledge you seek straightforwardly.
C. Providing Clarity for Potential Customers
For potential customers, we aim to provide the clarity you need to make the right choice for your Audi windshield replacement.
Audi Windshield Replacement Cost
Cost is a consideration for many Audi owners, and we offer transparent pricing for our services. The cost of Audi windshield replacement may vary based on your specific Audi model. Whether it's an Audi A3, A4, or A5, rest assured that XL Car Care offers competitive pricing without compromising on quality.
At XL Car Care, your Audi's safety, elegance, and performance are our top priorities. With our meticulous process, insurance assistance, and answers to your questions, we make Audi windshield replacement a seamless experience. Trust us to provide the care your Audi deserves. Experience the XL Car Care difference today!
Conclusion on article about Audi Windshield Replacement
In conclusion, XL Car Care is your trusted partner for Audi windshield replacement. We prioritize safety, quality, and the integrity of your Audi. By choosing us, you benefit from our expertise, genuine Audi glass, meticulous process, and assistance with insurance claims.
Encouraging Audi Owners to Prioritize Safety and Quality
We encourage Audi owners to prioritize the safety and quality of their vehicles. Your Audi deserves nothing but the best, and XL Car Care is here to ensure it.
Contact Information and Appointment Booking
Ready to schedule your Audi's windshield replacement at XL Car Care? Contact us today:
Providing Contact Details for XL Car Care
Phone: 09289455403
Address: B2/31, Mohan Cooperative Industrial Estate, Badarpur, New Delhi, Delhi 110044
Encouraging Visitors to Schedule an Appointment Don't wait to prioritize your Audi's safety and quality. Please schedule an appointment with XL Car Care today and experience the difference our expertise can make. Your Audi will thank you for it.