Welcome to XL Car Care: Your Source for Original BMW Parts Near Me
Welcome to XL Car Care, your premier destination for Original BMW Parts near you. At XL Car Care, we pride ourselves on being your one-stop shop for all your BMW parts needs. With a deep commitment to quality and customer satisfaction, we are dedicated to providing you with genuine BMW parts that will keep your beloved vehicle running at its best.
Why Choose Genuine BMW Parts from XL Car Care?
When you choose genuine BMW parts from XL Car Care, you're investing in the longevity and performance of your BMW. Our parts are sourced directly from BMW, ensuring they meet the strictest quality standards. Unlike aftermarket parts, our genuine BMW components are engineered specifically for your vehicle's make and model, guaranteeing a perfect fit every time. This ideal fit translates to optimal performance, safety, and peace of mind for BMW owners.
The Importance of Using Original BMW Parts
Using Original BMW Parts is not just a matter of preference; it's a matter of preserving the integrity of your BMW. Our genuine parts are designed to endure the rigors of daily driving, providing unmatched durability and reliability. Furthermore, choosing authentic BMW parts helps maintain your vehicle's warranty coverage, which is voided when non-genuine parts are used. When you go with XL Car Care, you invest intelligently in your BMW's future.
Navigating the World of BMW Parts: A Guide
Navigating the world of BMW parts can be an intricate process, but our dedicated team at XL Car Care is here to simplify it for you. Whether you're an experienced BMW enthusiast or a newcomer to the BMW family, our comprehensive guide will walk you through the various components, their functions, and how to choose the correct parts for your specific BMW model. We believe that informed customers make the best decisions, and we're here to empower you with knowledge.
Find the Nearest Dealership for Original BMW Parts
You might wonder, "Where can I find BMW parts near me?" Look no further than XL Car Care. Our strategically located dealerships are designed to serve BMW owners like you. With multiple locations in the area, we ensure you can easily access the genuine BMW parts you need to keep your vehicle pristine. Our proximity to you means faster and more convenient service.
XL Car Care: Your Trusted Partner for Authentic BMW Parts
At XL Car Care, we are more than just a parts supplier; we're your trusted partner in maintaining your BMW. Our commitment to authenticity, customer service, and expertise sets us apart. When you choose us, you choose a dedicated team that shares your passion for the ultimate driving machine – the BMW.
BMW Parts Locator: How to Find Genuine Parts Near You
We've developed our BMW parts locator tool to make finding genuine BMW parts near you easier. Simply enter your location and the specific parts you're looking for, and we'll provide you with a list of the nearest XL Car Care dealerships where you can quickly and conveniently obtain your genuine BMW components.
Quality Assurance: Genuine BMW Parts at XL Car Care
Quality assurance is at the core of our mission at XL Car Care. Before any part leaves our shelves, it undergoes rigorous inspection to ensure it meets the highest standards of excellence. This attention to detail guarantees that every part you receive from us is of the utmost quality, giving you the confidence your BMW deserves.
Tips for Identifying Genuine BMW Parts
We understand the importance of distinguishing genuine BMW parts from counterfeit ones. To help you avoid imitation parts, we provide valuable tips and guidance on identifying authentic BMW components. These insights will empower you to make informed choices when selecting parts for your BMW.
The Benefits of Choosing XL Car Care for Your BMW
You can access many benefits when you choose XL Car Care for your BMW parts needs. Our extensive inventory of genuine BMW parts and accessories and our knowledgeable and passionate staff ensure that your BMW receives nothing but the best. We are dedicated to enhancing your BMW ownership experience.
How to Place an Order for Original BMW Parts at XL Car Care
Placing an order for Original BMW Parts at XL Car Care is straightforward. We offer a user-friendly online ordering system that allows you to explore our BMW parts catalog from the comfort of your home. If you prefer a more personalized experience, our friendly and experienced staff at our physical locations are always ready to assist you with your parts purchase, ensuring you get precisely what you need.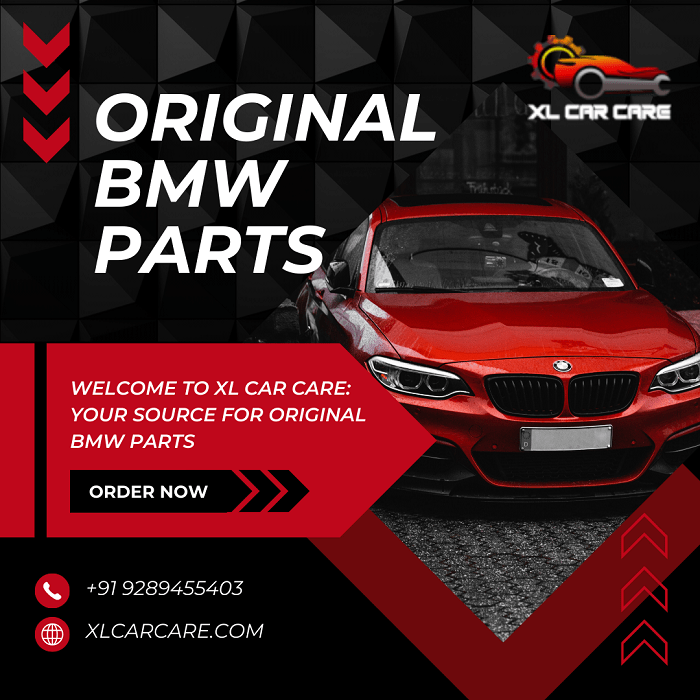 Frequently Asked Questions about Original BMW Parts
You may have questions about BMW parts, installation, and maintenance. We've compiled a list of frequently asked questions to give you the necessary answers.
1. What are genuine BMW parts?
   – Genuine BMW parts are authentic components crafted to match the precision and quality of your BMW vehicle. These parts are engineered by BMW, ensuring a perfect fit, exceptional performance, and outstanding durability.
2. Why choose genuine BMW parts over aftermarket parts?
– Opting for genuine BMW parts is a wise decision for several reasons. These parts preserve your BMW's warranty and resale value and offer superior quality and safety. Unlike aftermarket alternatives, genuine BMW parts are meticulously crafted to meet BMW's exacting standards, guaranteeing the best possible performance for your vehicle.
3. How do I find the nearest XL Car Care dealership for BMW parts near me?
– Locating the nearest XL Car Care dealership for BMW parts is hassle-free with our BMW Parts Locator tool. Simply enter your address or PIN code on our website, and we'll provide you with a list of the closest dealerships. We aim to make it convenient for you to access the genuine BMW parts you need.
4. Can I order BMW parts online from XL Car Care?
– Absolutely! XL Car Care offers a user-friendly online ordering system that allows you to browse our extensive BMW Parts Catalog from the comfort of your home. You can select the needed parts, place your order, and deliver them to your doorstep. Alternatively, you can visit one of our physical locations to receive in-person assistance from our knowledgeable staff.
5. How can I identify genuine BMW parts to avoid counterfeits?
– Ensuring you're purchasing genuine BMW parts is essential to protect your vehicle. You can identify genuine parts by looking for distinctive markings, official BMW logos, and specific packaging details. To help you further, we provide valuable guidance on our website to assist you in distinguishing authentic BMW components from counterfeit ones.
Customer Testimonials: Our Commitment to Quality
We take immense pride in the satisfaction of our customers, and their testimonials speak volumes about our commitment to quality and service. Please read what our loyal customers say about their experiences with XL Car Care and discover why we are their preferred choice for Original BMW Parts near them.
1. Rajesh Sharma
– "I've been a proud BMW owner for years, and XL Car Care has become my trusted partner for genuine BMW parts. Their selection is extensive, and their parts always maintain the exceptional performance of my BMW. I couldn't be happier with their service!"
2. Priya Mehra
– "XL Car Care's staff is not only knowledgeable but also incredibly helpful. I recently ordered some BMW parts online, and the process was straightforward. Their prompt assistance and top-notch service make them my go-to choice for all my BMW needs."
3. Anand Gupta
– "What sets XL Car Care apart is their unwavering commitment to quality assurance. Every genuine BMW part they offer undergoes rigorous testing to ensure it meets the highest standards. I trust them implicitly to keep my BMW performing at its best."
4. Neha Patel
– "I had some questions about replacing parts on my BMW, and XL Car Care's FAQ section on their website was a lifesaver. It provided clear and detailed answers, making me feel more confident in my choices. Thank you, XL Car Care!"
5. Deepak Halder
– "The BMW Parts Locator on XL Car Care's website saved me time and effort. Within moments, I found the nearest dealership for the parts I needed. When I visited in person, the staff was efficient and helpful. XL Car Care has earned my trust and loyalty."
Contact XL Car Care for Your BMW Parts Needs
At XL Car Care, we believe in maintaining open lines of communication with our customers. Whether you have questions, require assistance with an order, or want to discuss your BMW's specific needs, our friendly and knowledgeable team is always just a phone call or email away. Contact XL Car Care today and experience our dedication to providing you with the finest genuine BMW parts and outstanding customer service. Your BMW deserves nothing less.