Jaguar XF Car Repair & Service Centre in Delhi
Welcome to XL Car Care, Delhi's premier Jaguar XF Repair & Service Centre. We understand the pride and joy of owning a Jaguar XF. We are fully committed to ensuring your luxury vehicle receives the highest care and attention it deserves. With a strong focus on excellence, our team of expert technicians is dedicated to providing you with comprehensive Jaguar XF repair and maintenance services, using only the finest quality parts and equipment, all while delivering unparalleled customer service.
Why Choose XL Car Care for Your Jaguar XF Service Needs
When you choose XL Car Care for your Jaguar XF service needs, you can expect unmatched expertise and dedication in Delhi. Here's why we should be your top choice:
1. Expert Technicians: Our team of seasoned technicians specializes in Jaguar XF repairs and maintenance. They undergo regular training to stay up-to-date with the latest advancements in Jaguar technology, ensuring your vehicle is in the most capable hands.
2. Comprehensive Services: We offer a wide range of services tailored to meet the unique needs of your Jaguar XF, including routine maintenance, complex repairs, diagnostics, and more. Whatever your vehicle requires, we have you covered.
3. Quality Parts: To maintain the performance and reliability of your Jaguar XF, we use only high-quality genuine Jaguar parts and equipment. This commitment to quality ensures that your vehicle operates at its best.
4. Scheduled Maintenance: Our scheduled maintenance services are designed to keep your Jaguar XF running smoothly and prevent potential issues from arising in the future. Regular check-ups are essential for the longevity of your luxury vehicle.
5. Unmatched Customer Service: We take pride in our commitment to customer satisfaction at XL Car Care. From the moment you enter our doors, you'll experience exceptional service and personalized attention throughout your visit.
Our Team of Expert Technicians for Jaguar XF Repairs
Our team of expert technicians at XL Car Care is well-versed in the intricacies of Jaguar XF vehicles. They have not only received specialized training but also possess a genuine passion for Jaguars. With years of experience working on Jaguar XF models, they have the knowledge and expertise to diagnose and address any issues your vehicle may encounter. Whether routine maintenance or complex repairs, our team is dedicated to delivering top-notch service with precision and care.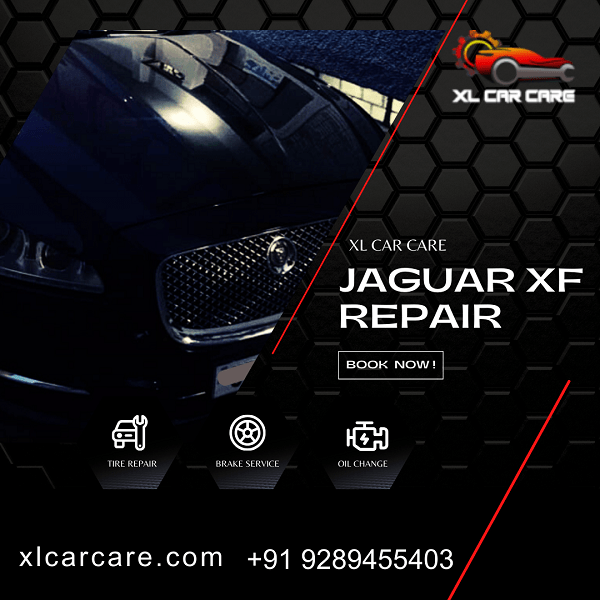 Comprehensive Jaguar XF Repair Services in Delhi
Our Jaguar XF Car Repair & Service Centre in Delhi offers a comprehensive range of services to address all your Jaguar XF needs. These services include:
– Engine diagnostics and repairs, covering issues such as power loss, strange noises, and performance concerns.
– Brake system maintenance and repairs, ensuring your vehicle stops safely and efficiently.
– Transmission services, including fluid changes and repairs for smooth gear shifting.
– Suspension and steering repairs to maintain a comfortable and stable ride.
– Electrical system diagnostics and repairs, addressing lighting, electronics, and more issues.
– Exhaust system maintenance, including muffler and catalytic converter repairs.
– Wheel alignment and tire services to enhance handling and tire lifespan.
– Air conditioning and heating system repairs for year-round comfort.
– And much more, all performed with the utmost precision and care.
Quality Parts and Equipment for Your Jaguar XF
Your Jaguar XF deserves the best, so we exclusively use genuine Jaguar parts and equipment. These parts are designed to meet the high standards set by Jaguar, ensuring that your vehicle performs at its peak and retains its value over time. You can confidently drive with authentic components, knowing that your luxury car is in optimal condition.
Scheduled Maintenance for Your Jaguar XF
Regular maintenance is essential to keep your Jaguar XF in optimal condition. Our scheduled maintenance services include:
– Oil changes using the recommended Jaguar-approved oils.
– Filter replacements to ensure clean air and fluid circulation.
– Fluid checks and replacements include coolant, brake, and transmission fluid.
– Comprehensive inspections to identify and address potential issues before they become significant problems.
By following Jaguar's recommended service intervals and trusting XL Car Care, you'll maximize the lifespan and performance of your Jaguar XF.
Common Jaguar XF Issues We Resolve
At XL Car Care, we have encountered and successfully resolved a wide range of common Jaguar XF issues, including but not limited to:
– Engine performance issues include misfires, poor fuel economy, and warning lights.
– Braking system problems, including squeaky brakes, worn pads, and ABS issues.
– Transmission malfunctions, such as slipping gears or rough shifting.
– Electrical system glitches, from faulty sensors to malfunctioning infotainment systems.
– Suspension and steering concerns, including uneven tire wear and steering vibrations.
– Exhaust system troubles, like leaks or damaged components.
– Cooling and heating system issues, including overheating and weak climate control.
– And more, thanks to our experienced technicians' diagnostic expertise.
Rest assured that when you entrust your Jaguar XF to XL Car Care, you'll receive a thorough evaluation and precise solutions for any issues your vehicle may be experiencing.
Experience Unmatched Customer Service at XL Car Care
Exceptional customer service is at the heart of what we do at XL Car Care. We believe your experience should be as outstanding as our service to your Jaguar XF. Our friendly and knowledgeable staff is always ready to assist you, answer your questions, and address your concerns. We go the extra mile to ensure your visit is productive and enjoyable.
Convenient Location of Our Jaguar XF Service Centre in Delhi
Located centrally in Delhi, our service center is easily accessible from various parts of the city, making it convenient for Jaguar XF owners to entrust their vehicles to our care. We understand your time is valuable, and we strive to provide efficient and timely service so you can return to the road with peace of mind.
Contact Us for Jaguar XF Repairs and Service
For all your Jaguar XF repairs and service needs, XL Car Care is just a phone call or email away. You can schedule an appointment online through our website, or feel free to contact us directly at [insert contact information]. We are here to serve you and ensure your Jaguar XF receives the attention it deserves.
Frequently Asked Questions About Jaguar XF Repairs
Here are some common questions about Jaguar XF repairs, along with informative answers:
Q: How often should I service my Jaguar XF?
A: The frequency of servicing your Jaguar XF depends on various factors, including the model year, mileage, and driving conditions. Following Jaguar's recommended service intervals is advisable, typically from every 12,000 to 15,000 miles (or 12 to 24 months). However, it's essential to consult your vehicle's owner's manual or contact our service center for personalized guidance based on your specific circumstances.
Q: Do you offer warranty repairs for Jaguar XF vehicles?
A: Yes, we can provide warranty repairs for Jaguar XF vehicles covered under their manufacturer's warranty. Our technicians are specially trained to perform warranty work according to Jaguar's rigorous standards. If you have any warranty-related concerns, please don't hesitate to contact us, and we'll assist you accordingly.
Q: Can I book an appointment online?
A: Absolutely! We've made it convenient for our customers to book appointments online through our user-friendly website. Simply visit https://xlcarcare.com/ and follow the easy steps to schedule your service at a time that suits you best. Alternatively, you can contact us directly; our friendly staff will be happy to assist you in arranging an appointment.
Testimonials from Satisfied Jaguar XF Owners in Delhi
We take great pride in the trust and satisfaction of our valued customers, and here are some testimonials from satisfied Jaguar XF owners in Delhi who have experienced our exceptional service firsthand:
– "XL Car Care has been my trusted service center for my Jaguar XF for several years. Their team's knowledge and dedication to excellence are truly commendable. My car always leaves their facility running like a dream." – Rahul S.
– "I greatly appreciate the professionalism and transparency of XL Car Care. Whenever I bring my Jaguar XF in for service, they take the time to explain the repairs needed and provide fair pricing. Thanks to their expert care, my Jaguar XF has never run better." – Priya D.
– "As a proud Jaguar XF owner, I was thrilled to find XL Car Care in Delhi. They have consistently exceeded my expectations with their meticulous attention to detail and their commitment to delivering the highest quality service. XL Car Care has become my go-to destination for all my Jaguar service needs." – Rajesh M.
These testimonials reflect our customers' trust, satisfaction, and loyalty, which we consider a testament to our dedication to excellence in Jaguar XF repair and service.
Stay Informed: Jaguar XF Maintenance Tips and Advice
At XL Car Care, we believe in empowering Jaguar XF owners with valuable maintenance tips and advice to help them make informed decisions about their vehicle's care. Our blog and newsletters provide insights into best practices, seasonal maintenance tips, and strategies to maximize your Jaguar XF's performance and longevity. Stay tuned to our website for the latest updates and expert guidance.
XL Car Care: Your Trusted Jaguar XF Service Partner in Delhi
XL Car Care is not just a service center; we are your trusted partner in maintaining the exceptional performance and elegance of your Jaguar XF. Our unwavering commitment to providing the highest level of service, using genuine Jaguar parts and equipment, and employing a team of expert technicians sets us apart as the premier Jaguar XF Car Repair & Service Centre in Delhi.
When you choose XL Car Care, you choose excellence, reliability, and peace of mind. We invite you to visit our Jaguar XF Car Repair & Service Centre in Delhi today to experience the difference. Your Jaguar XF deserves nothing less than the best, and that's precisely what we deliver at XL Car Care.